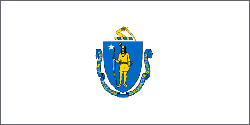 Massachusetts
"Bay State; Old Colony State"
Motto

Ense petit placidam sub libertate quietem (By the sword we seek peace, but peace only under liberty)

Capitol

Name Origin

From Massachusett tribe of Native Americans, meaning "at or about the great hill"

Statehood Date

Feb. 6, 1788 (6th)
Cities in Massachusetts
NOTE: Not all cities are displayed. Please narrow your selection by using the search above.
Official Symbols
A state's official symbols represent the composition and culture of the land and people who live and have lived here. Below are the symbols of Massachusetts along with the year they became official.
| | |
| --- | --- |
| Flower | Mayflower (1918) |
| Tree | American Elm (1941) |
| Bird | Chickadee (1941) |
| Song | "All Hail To Massachusetts" (1966) |
| Beverage | Cranberry Juice (1970) |
| Insect | Ladybug (1974) |
| Cookie | Chocolate Chip (1997) |
| Muffin | Corn Muffin (1986) |
| Dessert | Boston Cream Pie (1996) |
Demographics
Population Density

809.8 people per square mile
Geography and Weather
Land Area

7,840 sq mi. (20,306 sq km)

Lowest Elevation

0 ft (0 m)

Average Elevation

500 ft (152.4 m)

Highest Temperature Recorded

107°F (42°C) on August 2, 1975

Lowest Temperature Recorded

–35°F (–37°C) on January 12, 1981